Welcome to my latest blog. I'm off to sunny South Africa this week-end so you won't hear from me until I get back. It's the first time in about 15 years that I am going back and I am so excited! Just wish I could take my whole family with me. I hope to come back with my creativity rejuvenated. I'm also looking forward to getting inspiration from the traditional African art and handcrafts.
I love it that our team is so diverse. American born CC lived in Thailand prior to moving to Chile, and the Asian influence is so clearly visible in her jewelry. When I saw CC's (Blue and White Wear) beautiful Chinese Ming Blue and White Pendant and Beads Necklace, I was immediately struck by the pendant created from a
porcelain Ming Dynasty shard. T
hree porcelain hand-painted round beads
flank the silver framed pendant on each side. The characters on the beads
represent longevity, happiness, wealth, love, and good fortune.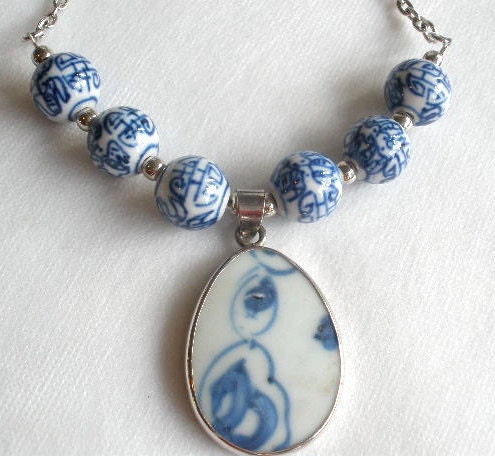 I love the sentiments expressed in this necklace - what a meaningful gift to give someone you love.
http://www.etsy.com/people/bluewhitejewelrywear
If you like to entertain and you're always running short of wine glasses because your guests keep getting confused as to which is their glass and so take another clean one. Well,
Absolutely Kismet
has the answer - a set of 6 wine charms made from seed beads, focal beads and pewter charms. What a great hostess gift, too. These charms fit around most stemware and some coffee mugs. You can also custom order so that you get exactly what you need to dress up your next party!
.http://www.etsy.com/people/AbsolutelyKismet
Ellen Mackler of

GMaEllenCrochetGifts

was inspired by her very creative grandmothers and her love
of crochet is a result of their influence.

I also love to crochet, so I was very taken by her
Drop Shell Crochet Jangle Bracelet/Necklace . She has crochet
natural shell beads on nylon thread. This can be worn as a necklace, wrapped four times for a bracelet or an anklet. The possibilities are endless!
I can imagine this worn with a white sheath dress - what a stunning image!


http://www.etsy.com/shop/GMaEllenCrochetGifts?page=4
Please visit these wonderful shops - you will be as amazed and delighted as I was by their creativity.
I look forward to sharing more when I return from South Africa.